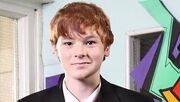 Zack Diamond first arrives in Series 7 Episode 12 and departs in Episode 30 as he goes back to live with his Mum.
Zack arrives at Waterloo Road with his mum Sarah Brown and his sister Madi Diamond.
He has little confidence and is easily embarrased and has a bedwetting problem
His dad wants him to be sporty but unfortunatly Zack doesn't have the same amount of skill as the rest of the boys, so he is always left on the bench in matches! 
He just wants his dad to be proud of him but he often feels like he doesnt fit in.
He lives at 24 Blackworth Lane
In his immediate family he is the only one with ginger hair
Mobile number: 07700900323
Home number: 01639960899
Dad: Jez Diamond
Mum: 

Sarah Brown 

Step-Mum: Sian Diamond 

Sister: Mad Diamond