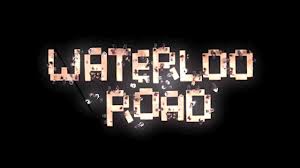 Welcome to the Waterloo Road Wiki

Welcome to the Waterloo Road wiki about the BBC Serial Programme
The Waterloo Road Wiki contains more information about Waterloo Road than anywhere else, and can be edited by you. Please feel free to update this archive at any time to make the wiki better.
Waterloo Road WIKI is an wikia dedicated to BBC ONE television show Waterloo Road, which focuses on a dysfunctional comprehensive school in Rochdale, England.(In series 8 they move to Scotland) On this wiki, you'll find articles about characters, episodes, episode guides and images. Please visit our fan page by searching: Fan page. Please visit our comunity pages by searching:Amolaa or Community page. Please tell us your ideas for new pages by searching: New page ideas.And please write some fan fiction at: I go to waterloo road...............
Series 1 (8 Episodes)
Series 2 (12 Episodes)
Series 3 (20 Episodes)
Series 4 (20 Episodes)
Series 5 (20 Episodes)
Series 6 (20 Episodes)
Series 7 (30 Episodes)
Series 8 (30 Episodes)
Series 9 (20 Episodes)
Series 10 (20 Episodes)
Waterloo Road has seen many characters come and go including staff and pupils. To view all the character changes from series to series and individual character pages, please view the characters page. Tom clarkson is the best but the other are still on here please enjoy.
Ad blocker interference detected!
Wikia is a free-to-use site that makes money from advertising. We have a modified experience for viewers using ad blockers

Wikia is not accessible if you've made further modifications. Remove the custom ad blocker rule(s) and the page will load as expected.