Rose Kelly

Played by

Elaine Symons

First appearance

7 Janurary 2009

Occupation

Dinner Lady

Relationships

Renyold Kelly (Ex-husband)
Tom Clarkson (Ex-boyfriend)
Gary
Denzil's father
Prince's father

Children

Sambuca Kelly
Denzil Kelly
Earl Kelly
Marley Kelly
Prince Kelly

Siblings

Colleen
Rose Kelly
is a character from series four of Waterloo Road. She is a dinnerlady at Waterloo Road and the mother of the Kelly Family. She is portrayed by Elaine Symons.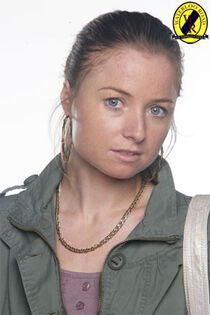 Character
Edit
Raised in the East End of London, Rose lived and breathed the mile radius around her council flat and like most of the other girls around her, was pregnant by the age of sixteen and again not a year later. Motherless and estranged from her boyfriend Gary, Rose started to drink heavily and got herself a reputation for being easy, both her fourth child Denzil and fifth child Prince were products of one night stands. Her third child Sam and only daughter was the product of her marriage with violent ex husband Renyold who is now in prison. Rose also has a sister called Colleen who has a large brood of children herself.
When the council offered the family the chance to move to a bigger house in Rochdale, Rose sees it as an opportunity for a fresh start and agrees to re-locate. She loves her kids dearly and wants them to do well at Waterloo Road, but is rarely sober and abandons any attempt at discipline. However, Rose proves to be extremely clever, and Rachel knows she just needs to get through to this woman - if she can get Rose some qualifications of her own, she might just have the confidence to begin acting as a role model to her children.
External Links
Edit