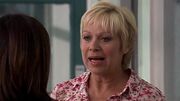 Mika becomes the victim if a hate campaign by best friend, Leigh-Ann, and fears that the whole school have seen topless images of her. Mika feels she has no one to turn to, but Steph dtepd in to play the good Samaritan. However, she wades in without telling Mika her plan and sets up a trap to confront the bullies, which goes terribly wrong, forcing Mika to confess all to Izzy and Tom. Meanwhile, PA Davina gets a shock when she finds former love and new pupil Brett is now at Waterloo Road. Brett makes it clear that he is keen to rekindle what they had, but Davina seems to have fallen for Jack. Elsewhere, Donte and Chlo plan to sleep together for the first time when his father goes away. But their romantic evening ends in disaster when they are unexpectedly reunited with Lewis Seddon.
Ad blocker interference detected!
Wikia is a free-to-use site that makes money from advertising. We have a modified experience for viewers using ad blockers

Wikia is not accessible if you've made further modifications. Remove the custom ad blocker rule(s) and the page will load as expected.